Clean Energy
Our Commitment to a Clean Energy New Jersey
At New Jersey Natural Gas (NJNG), we know we have an important role to play in achieving a low-carbon, clean energy future. That's why we've built the most environmentally sound natural gas system in New Jersey. And it's why we're investing in the next generation of clean, renewable energy – low- and zero-carbon fuels made from wind and solar.
Through advances in technology and billions of dollars already invested to build a world-class, environmentally friendly home heating pipeline network, we're on a mission to innovate.
We're working to deliver the next generation of clean energy to homes and businesses – helping reduce emissions and achieve climate goals in the most affordable, resilient way possible.
Using Our Existing Infrastructure to Deliver the Clean Energy Future
Billions of ratepayer dollars have already been invested to build and maintain New Jersey's 33,000-mile natural gas delivery network. This delivery system serves three of every four New Jersey households and businesses, and for good reason – a proven record of safety and reliability.
Given this infrastructure is safe, reliable and already built – why not use it to deliver the clean energy we need? That's exactly what we plan to do.
Distributing safe, reliable and 100% renewable energy through existing, upgraded infrastructure is a practical path forward to achieve New Jersey's 2050 emission reduction goals, while maintaining the benefits and services counted on by families and businesses.
Renewable Natural Gas
Renewable natural gas, or RNG, is exactly that – renewable. How? RNG can be generated from sources like food, water and waste, making it a carbon-neutral fuel. Methane that is emitted from landfills and wastewater treatment sites is typically released or burned at the source. With RNG, we capture this energy and process it so it can be used interchangeably with traditional natural gas.
For example – you eat dinner, scrape your leftover food into your garbage and take it out to the curb. From there, it's delivered to a landfill, naturally releasing methane while it decomposes. This is where we come in. Instead of letting this methane be released into the atmosphere or simply burned off, we can capture it, process it and use it to heat homes.
Renewable Natural Gas is an Emerging Energy Source That Checks All the Boxes:
| | |
| --- | --- |
| | Carbon Neutral Fuel |
| | Warm Homes, Runs Appliances and Powers Businesses  |
| | Helps Reduce Emissions  |
| | Helps Improve Air Quality  |
So How Big of an Impact Can RNG Have?
One study that looked at RNG sources nationwide found the potential for up to 13,900 trillion Btu of RNG gas* – or about 90% of the total natural gas consumption in the U.S. today.
*Source: Renewable Sources of Natural Gas Supply, American Gas Foundation, December 2019
NJNG's Howell Green Hydrogen Project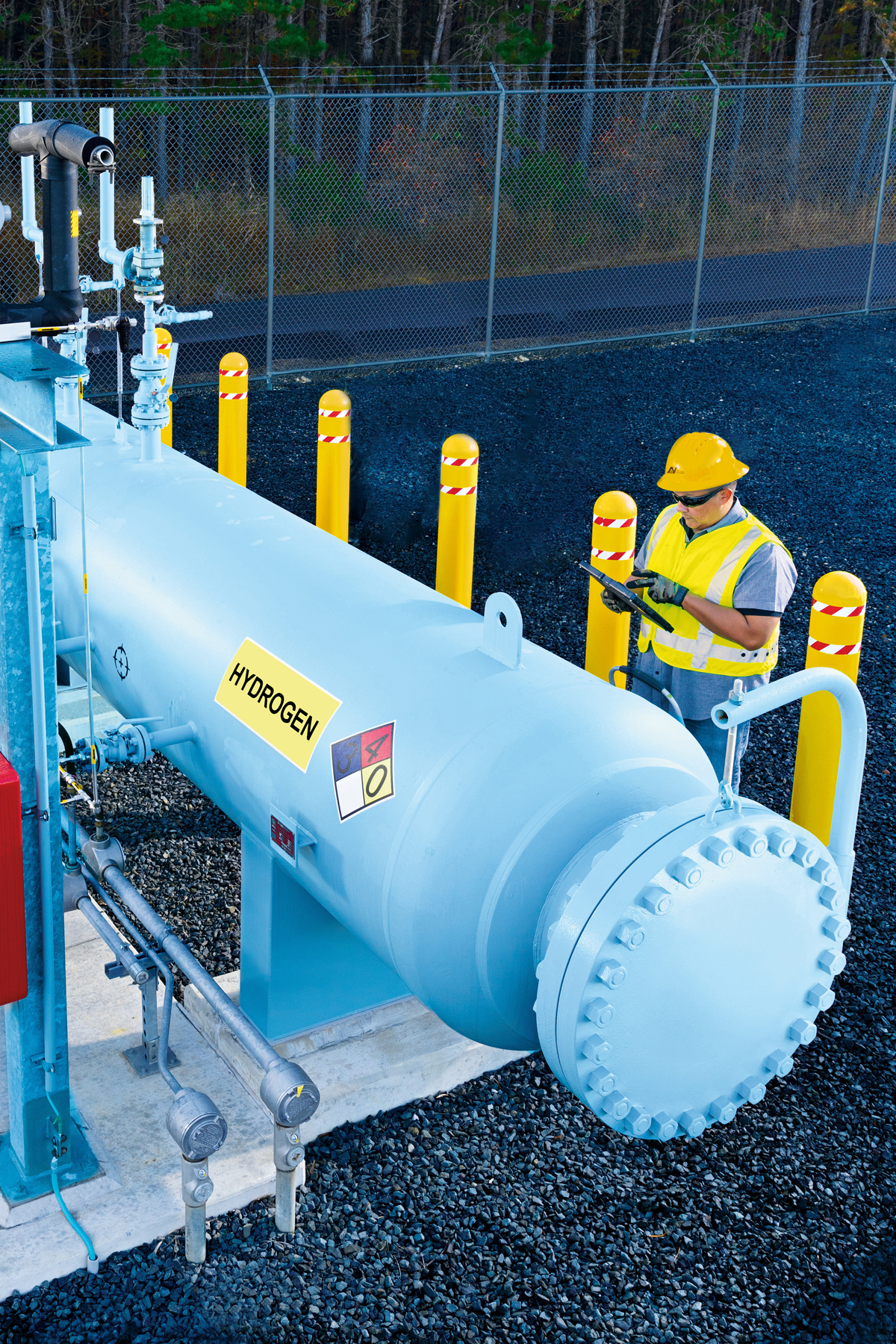 NJNG has completed a green hydrogen, or power-to-gas project, right here in our service territory in Howell, New Jersey – the first on the East Coast in the United States operated by a utility and an important step toward the clean energy future. This effort is not only an example of how we are putting our words into action but will demonstrate the real-world potential of the hydrogen opportunity before us.
Some More Facts About the Project
The 100% renewable green hydrogen produced blends directly into our existing home heating pipeline network, adding this zero-carbon fuel source to the energy we deliver to homes and businesses.
The hydrogen is produced using 100% renewable power from an on-site solar installation.
We take carbon-free renewable energy, like solar or wind, to power a process that splits water into its two elements: hydrogen and oxygen. When hydrogen is created this way, it is 100% carbon-free, renewable green hydrogen. This green hydrogen is then safely blended into our existing distribution system, delivering clean, safe and emissions-free energy to heat homes and power businesses here in New Jersey.
NJNG is well positioned to participate in the development of a hydrogen market in New Jersey for two main reasons:
NJNG has a world-class distribution system ready to deliver the next generation of clean energy to customers. For decades, NJNG has invested in modernizing its system to reduce leaks and lower emissions, building a distribution network that is one of the most environmentally sound in the nation. By investing to remove cast iron and unprotected steel, we have enabled our system to transport natural gas alternatives, like hydrogen.
NJNG's service territory uniquely positions us to integrate with plans for offshore wind development. A significant portion of the state's goal of 7,500 megawatts of offshore wind by 2035 is expected to come ashore in our service territory. We see potential for our existing infrastructure to store and transport renewable energy during times when supply from resources like wind and solar is higher than demand.
Traditionally in these situations, wind and solar renewable generators are forced to shut down, wasting the renewable power that could have been created. This is known as curtailing. Instead, by creating green hydrogen from this excess power and blending it into existing natural gas infrastructure, we can provide an alternative to curtailment and help optimize our state's renewable resources.